Manure and MSW dryers
For the correct management of organic waste from various activities, such as pig farming, it is necessary that the material is in manageable conditions. When it is necessary to eliminate the high water content present in these residues, ANIVI can offer rotary dryers using different fuels that manage to reduce humidity up to the material handling requirements.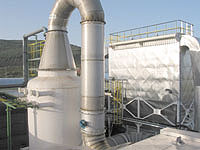 In the same way, this technology is applicable to meat residues or vegetable residues when they have to be dried for a later application.